Candlewood Lake Club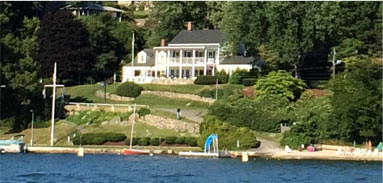 Candlewood Lake is a man-made body of water, created in the1920's by the Army Corp. of Engineers and the Connecticut Light and Power Company, to be used to generate hydroelectric energy. The flooding of the farmland, which is at the lake bottom, was completed in 1928. The lake is irregular in shape, roughly resembling an "H". It is 18 miles long and has some 75 miles of shoreline.
In 1929, Robert Farley read in the New York Times that "Candlewood Lake was one of the ten most beautiful lakes in the world". The Farley Organization, a well known realty firm in Scarsdale and White Plains, was looking for an opportunity to expand its interests. They seized upon the opportunity available at Candlewood Lake. In 1931 organized Farley of Connecticut, consisting of Robert Farley and his sons, Calvin and Theodore.